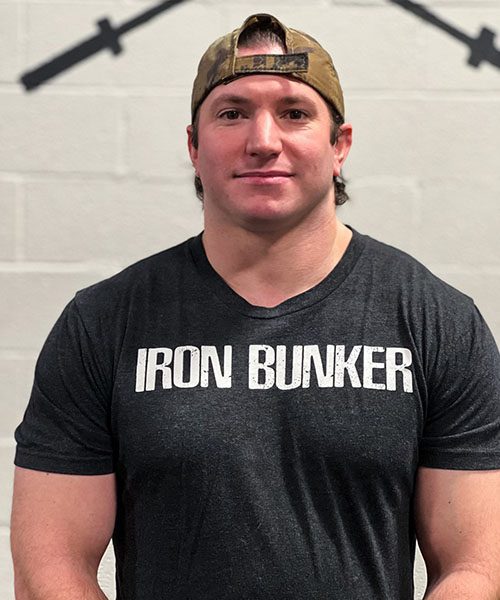 Mike Whitman
Founder | Personal Trainer
I have been working in the industry of strength and conditioning since 2009. I started personal training when I was in college, but I realized I had a passion for exercise when I began training for wrestling in high school. When I realized the value of a proper strength and conditioning program, both physically and mentally, I knew it was something I was going to continue for the rest of my life. Although I didn't initially go to college to study Exercise Science, it was seemingly inevitable that I ended up there. 
My favorite thing about lifting is the mental effect, the self confidence, the reward of hard work that no one else can put in but yourself. In the words of Black Flag's singer Henry Rollins, "I have found the Iron to be my greatest friend. It never freaks out on me, never runs. Friends may come and go, but two hundred pounds is always two hundred pounds." That quote truly speaks to my soul. As a small kid growing up I could never choose to grow taller, or chose to be bigger, but I could choose to work harder, to get better, to get stronger, to become more powerful, to be more efficient, and it has always helped through darker times in my life. My goal is for others to have that same sensation I get from that hard work, that progress, that grind that led me to become a better person more than anything else. 
My favorite exercise for new clients is the trap bar deadlift because there is so much we can learn from that exercise. We can train for strength, power, hypertrophy, and it is ergonomically friendly to almost every single person; a great universal exercise. My personal favorite exercise is a back squat to press in one smooth motion, or a behind the neck squat thrust, depending how one wants to name the exercise. It is a fantastic combination of mobility and power in one smooth motion while training almost the entire body. 
Having a degree in Exercise Science, a Certified Strength and Conditioning Specialist certification from the NSCA, a USAW, education has always played a large role in my growth as a professional. If someone isn't constantly reading or attempting to better themselves in this field, then I question their dedication to this field in general. Few things aggravate me more than a "strength coach" that doesn't consistently train themselves. Either live the lifestyle or don't.
Carmine Avena
Co-Founder | Personal Trainer
My name is Carmine Avena, a jersey boy with a love for fitness. I grew up playing a lot of sports and realized early on how I could benefit from a structured exercise program. The weight room gave me an outlet to truly express myself in a way I hadn't experienced. In baseball and football, it was all about game day. But the weight room was always accessible. I didn't have to wait. I didn't have to focus on anything except the connection with myself. I was mentored by a gentleman named Joe DeMarco and he not only taught me the foundations of an effective program, but really put into my mind how fitness is a lifelong endeavor. Even when my athletic career was over, I was still so motivated to continue my journey, in a new way.
In 2015, during my time at Towson University, I did an internship at a local fitness center and built a strong relationship with fellow trainer and founder of the Iron Bunker, Mike Whitman. Stepping foot into the gym, seeing all the people that I could potentially help, seeing a practical application of my knowledge was truly powerful. In that moment, I knew what I was born to do. I became an ACSM certified personal trainer and haven't looked back since.
My personal favorite exercise is the clean. It is a great movement to develop coordination, explosive power, and it just feels badass. This movement also represents a time of significant personal and professional development. I took a certification course, the BOLC, so that I could learn it under the guidance of renowned Olympic Weightlifting Coach Leo Totten. I refined my technique over the course of a year, learned how to properly coach it, and was able to prove to myself that I can always learn/apply more.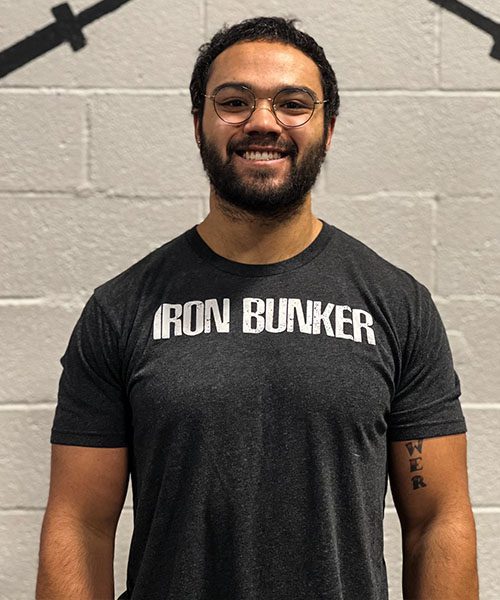 Trystan Balderston
Personal Trainer | PerBehavior Modification Coach
My name is Trystan Balderston and I have been a personal trainer for 7 years. I went to Towson University for a degree in exercise science and was eager to learn through application. So, I became a NASM certified personal trainer to use my growing knowledge to help people achieve their health and wellness goals. It is my passion to help people move toward being the best version of themselves and engage in a lifestyle that is fulfilling. It became clear that a lifestyle means more than just fitness, so I became motivated to develop expertise in more ways to improve well-being. Once I graduated, I became a Behavior Modification Specialist, to help people to connect with their values and use their strengths in all aspects of life.
What I love about exercising is that it is an opportunity to overcome something. When you do any exercise, from a toe tap to a back squat, you are putting forth effort to accomplish a goal. If this is something you can do consistently, it will inevitably transfer over to ANYTHING you put your mind to! The mentality to challenge yourself, stay involved, and stay connected to your goals represents a massive turning point in my own life.
My favorite exercise is the Good Morning, especially when I use the PitShark here at the Iron Bunker. I feel that when it is in my program, every other lift improves, my posture feels solid, and I just feel like a tree rooted into the ground (Groot-esque). Its an easy movement to learn and I think pretty much everyone should be doing it.